Design and Test Lab Is Here to Provide Personalized and Reliable Services in a Saturated Market: CEO Vladimir Obrizan
Apr 14, 2020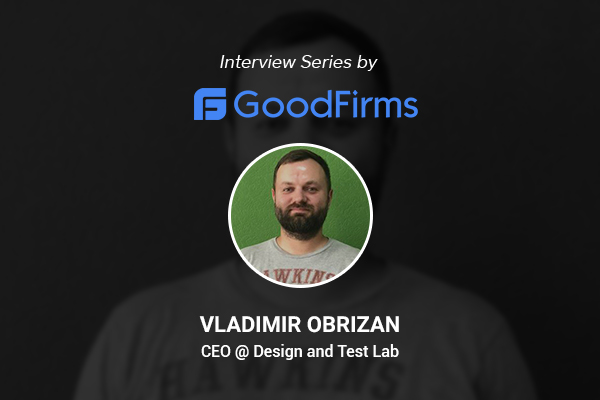 Established in 2005, Design and Test Lab is a software development firm based in Ukraine. The firm specializes in mobile and web development services. Their CEO, Vladimir Obrizan, has set out with a goal to promote reliable software development practices. He wants everyone to benefit from their clean code services, whether they are budding entrepreneurs, small businesses, start-ups, or even an established organization.
Vladimir said that they don't wish to write just code but want their clients to realize a difference through the innovative products helping them all the way to refine their vision and capitalize on each change, propelling them to succeed. Using proven mobile-modules, delivering High-Performance apps, Low-cost maintenance, Proper integration, and Reliable Engineering are the objectives that make up their core value system.
Vladimir Obrizan's vision and mission for this firm is unique and comes as a breath of fresh air of businesses looking for reliable services in a competitive market. GoodFirms invited this competent CEO for a dialogue where he was keen to share the firm's best practices and what makes them stand out of the crowd.
Mobile Apps Developed With Code and Competency:
Vladimir gives much credit to this in-house, who takes care of all the project aspects leveraging the diverse individual experience of its skilled team members. The client is free to choose a business model that suits their requirement, and his team will comprehensively take ownership of the business analysis, UX Design, project management, software design, implementation, testing, and maintenance.
David Slinger, Owner at Life Energy Designs Ltd., is a gratified collaborator who is looking forward to work with the firm again: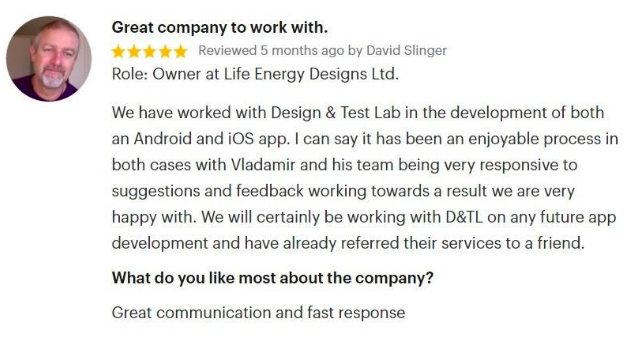 The software engineers at the firm explained the CEO, conduct automated tests that are imperative to their process, and also carry out the necessary code-review to approve the quality of the source codes. Their high-quality products, fast time to market, higher performance, tendency to meet project deadlines, strong marketing positioning, and value proposition of reliable business growth have made them a premier choice in the field of mobile app development. As a result, the firm ranks highly in the record of elite mobile app development companies in Ukraine at GoodFirms.
Web Development Services That Know Your Market:
Inquiring about factors that determine the timeframe of the development phase, Vladimir recounted that the Scope of Work, Number of mobile platforms, Third-party components integration, and Legacy OS support are the key drivers in that area. Efforts going into the backend and frontend development also contribute to this decision. As a lot of importance is given to providing a seamless experience, 60% of development efforts go into the frontend and backend takes up the remaining 40%.
Design and Test Lab will be driven into the esteemed list of the top web development companies at GoodFirms as a direct result of their technical sensitivity and dedicated efforts.
The selection of the development platform is another significant aspect of decision-making. The analysis of the target audience, said the CEO, along with the possibility of cross-platform development, form the base of this selection. The firm recommends Android-based applications when the prime objective is to sell services. However, they advocate for an iOS-based app if the app is service-based as it garners more remunerative benefits.
Vladimir Obrizan has revealed this and more about this firm and what they have to offer to service seekers. Please read his full interview here at GoodFirms for more information.
About GoodFirms
Washington, D.C. based GoodFirms is a maverick B2B Research and Reviews Company that helps service-seekers in finding Mobile App Development and Web Development companies that are rendering the best services in the industry. GoodFirms' bonafide research process ranks companies, boosts their online reputation and helps businesses choose the right technology partner that meets their requirements.
About the Author
Anna Stark is presently working as a Content Writer with GoodFirms – Washington D.C. based B2B Research Company, which bridges the gap between service seekers and service providers. Anna's current role lingers her to shape every company's performance and critical attributes into words. She firmly believes in the magic of words and equips new strategies that work, always in with ideas, something new to carve, and something original to decorate the firm's identity.
Checklist
how to choose a new software development vendor
Mature Mobile Reliability Standard
Sometimes it's hard to choose reliable software development company, especially if you do this for the first time in your life or you tired of non-qualified soft. All companies promise "high quality, on time, on budget", and they all look the same.
Subscribe and you will receive 14 tips (5 min reading) that will help you determine the reliable vendor and save your time and money!
Enter your email and get checklist